When most business owners think of financing their business, they are focused on securing funds for merchandise or space, but don't consider financing the one thing that will tie the merchandise and space together in a meaningful and inspiring way – retail fixtures. The right fixtures can act as another sales person on the floor, inviting customers into your space and drawing attention to your products. So why not invest in getting the right fixtures that will add to your sales potential?
Space planning and retail design are key to your success.
If you're not already working with a designer for your space, talk to your lease holder. Get ideas. Visit your competition. See how they are putting their store together to attract the right buyers and showcase their wares. Talk to other retailers. Find out how they put together their space. Like any design, it is important to know what feeling you're trying to create in your space. Then use that to start to put together a plan for what you'll need to get there.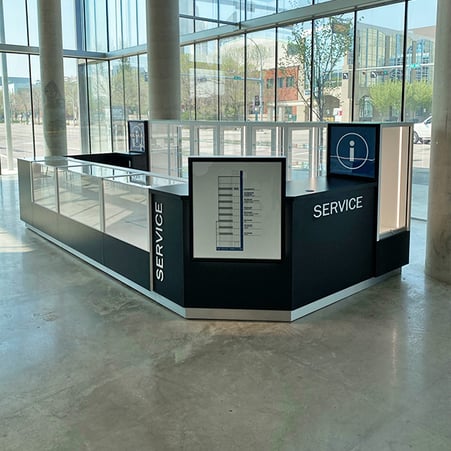 Here is a list of some of the fixtures that most retail spaces require:
Cash desk
Service Counter
Wall Systems and hardware
Showcases
Mannequins
Shelves
Lighting
Signage (exterior and interior)
Wayfinding
When you're exploring stores for ideas, pay specific attention to all the items listed above. Notice how other retailers use them. Notice the flow of the space. If you can, talk to employees to see what they like about the space and what they think doesn't work.
Then talk to a retail fixture specialist like C-West Custom Fixtures. Working with a seasoned supplier like C-West means we can help you clarify your vision, and give you a starting point for understanding both timelines and budgets for your store fixtures.
Now that you've got an idea of your budget, it's time to consider financing.
The costs for fixtures can add up quickly – especially if you haven't budgeted for the specific design elements you now realize you need to make your retail dream come true. Many retailers choose to finance their retail fixtures. Spreading your payments for fixtures over a manageable timeframe makes getting the right fixtures for your business less of a financial hit.
Financing options to consider
Net 30 O.A.C. - C-West and other fixture suppliers (like The Fixture Store) often have short-term financing available to retailers that meet approved credit requirements. For example, C-West offers some clients the option to have a full 30 days to pay for their fixtures on approved credit.
Credit Cards - You can also ask if your fixture supplier will take credit cards. At C-West, there is a 3% fee for using a credit card if the purchase is over $5000 but often this expense is worth the advantage of using a credit card that will allow you to both accumulate points or cash back AND give you the flexibility you need for payments.
Line of Credit – Have you already established a line of credit for your business? If not, this is something you can discuss with your banking professional. A line of credit can be unsecured or secured and will allow you to handle large purchases as you need to make them for a fixed interest rate that is much lower than traditional credit cards.
Bank Loan – Again, talk to your banking professional to see if you can secure a loan to cover the set-up costs for your retail space. You'll need to outline various costs and projected revenues in order to be approved.
Canadian Small Business Financing Program – This is a government program that makes it easier for small businesses to get loans from financial institutions by sharing the risk with lenders. You can access this program through most financial institutions.
Equipment Leasing – Companies like Priority Leasing Inc. will sometimes lease store fixtures and displays, signage, computers, furniture, etc. The benefit of leasing is to preserve cash. And you can usually expense your fixture costs monthly over your lease term.
As you can see, there are many options available to help you create the store that you envision. A store with fixtures, signs and lighting that will entice customers and help you move your products. A store of your dreams.
For more information on putting together the budget for your new retail venture, check out this helpful download "Opening Soon – Your Retail Budget Reality Check". In it you'll find 3 important checklists to help you budget for success.