There used to be a time when laminate was considered to be far inferior to real wood or wood veneers. However, technology and construction methods have narrowed that gap in the eyes of many.
What is laminate?
A laminate is a thin sheet of material that feels a bit like plastic but is actually made by combining heavy paper, called kraft paper, with water-based resin. Laminates are easy to maintain, resistant to both stain and moisture, and durable. The pandemic brought to light another important feature of laminate fixtures – they are incredibly easy to disinfect.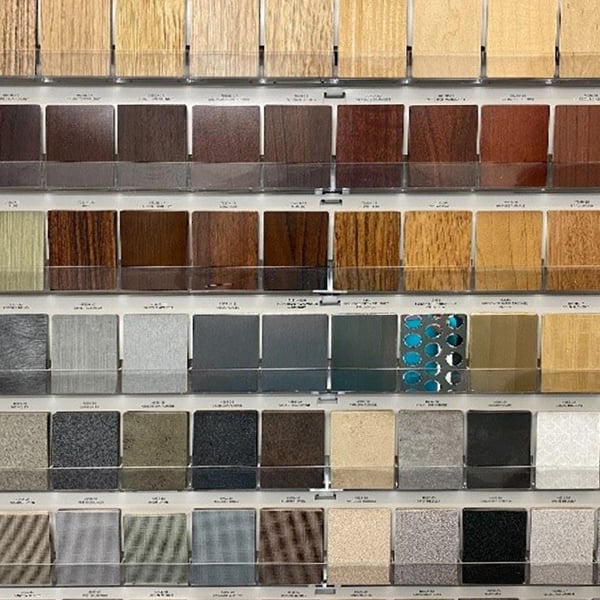 Laminate fixtures come in a variety of looks from wood, to stone, to bright colours, and metallics.
What type of laminate is right for your retail environment?
There are two main categories of laminate that are used by most fixture manufacturers – High Pressure Laminate (HPL) and Thermally Fused Laminate (TFL). Knowing what each type is and what it offers is incredibly important when you are choosing your materials with your designer or manufacturer and when you are trying to understand the costs associated with each.
High Pressure Laminate (HPL) is made of a printed paper (this gives you the colour/finish of the HPL) fused to multiple sheets of kraft paper saturated with a resin. Heat and pressure are used to bond all the sheets together. Once the process is complete, you have a flexible, durable piece of thin plastic-like material that can be used to cover different surfaces.
High-Pressure Laminate is heat, moisture, stain and abrasion resistant, making it a great choice for heavy use spaces. But you must remember that the properties of the laminate change the moment you cover something with it. If, for example, you adhere the HPL to a curved fixture that was made of particle board – that piece of HPL is no longer flexible or moisture resistant because the particle board is neither of those things.
Pros:
Thin and flexible/bendable
Can be adhered to many different surfaces depending on need
Heat, moisture, stain and abrasion resistant
Doesn't limit you to a specific core or substrate
Thermally Fused Laminate (TFL) is created by soaking printed paper (this gives you the colour/finish of the HPL) with resin and allowing it to partially dry. The partially cured sheet is then stuck to a rigid backing material (substrate or core). Heat and pressure are used to fuse the laminate and the substrate together, and the resulting laminated boards are ready to be sized and cut.
By omitting the process of fusing it to kraft paper first, there is a considerable cost savings, which make Thermally Fused Laminate a more affordable option. Like High Pressure Laminate, Thermal Fused Laminate is heat, moisture, stain and abrasion resistant. It is also peel resistant, since it's fused directly to the core (or substrate). Again, it is important to remember that no laminate retains 100% it's properties once it is manufactured into a fixture.
Pros:
Heat, moisture, stain and abrasion resistant
Peel resistant because sheets used to manufacture fixtures are created with the core already attached
Lower price
HPL or TFL: Can you tell the difference?

These are two retail displays we created. One is made using HPL. The other using TFL. With advances in quality laminates, it is incredibly hard to tell which one is which. And, often the choice of what to use comes down to technical specifications of what you are trying to create rather than the finished look.
It's important to note that both High Pressure Laminate and Thermally Fused Laminate provide a durable, low maintenance solution for any retail space.
At C-West we've been manufacturing retail fixtures with laminates (as well as metal, glass, wood veneers, acrylic and more) for over 20 years. And as the retail landscape, materials and fixture technology evolves, we stay on top of all the advances. If you're looking for a retail fixture manufacturer to turn to that knows how to create the impression you're looking for, give us a call. We're always happy to talk retail fixtures and laminates!